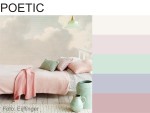 The traditional parade of interesting materials, colors and solitaires arrayed in four directions will be held for the fourth time already. Same as previous years it is now taken under the wings of interior designer Iva Bastlová and publications on this accompanying program will be part of the specialized Interiors magazine. A novelty is the change in location. The exposition will still be located in the entrance hall 2, but not in one of the side parts, now visitors would pass it directly. New auditorium grew at the original place and there would be held a lecture on the topic of interior trends: POETIC, HARMONY, CULTURAL and SMART.
This style is full of pastel colours and subtle tones. Elements are traditional and modern at the same time. The interiors of this style is harmonious, gentle but also timeless. It cares about your soul and a it is a place for relaxation. The main inspiration is the art of all forms.
This is an absolutely calm interior, where main roles are played by natural materials like real wood, stone or wool. That is a reflection on ecology, recycling and up-recycling and also about the home itself, what is now not only a place for meeting with family, but it becomes a place for work (home office) as well. Colours are muted, earthy, main duo plays green and blue.
It is not just retro, it is also a combination of cultures, old and new. It's just our home. Nature, fun, life! Such are interiors in this style that you play for nothing. The materials are diverse as well as motifs and patterns. The colours are bright, distinctive tones are complement with soft neutrals.
Easy to clean, multi-functional, playful! Such are modern interiors, accomplished with high-level technology. The base of the interior is fresh and vivid, up to neutral, and it is complemented by bold colours such as red or green. Gloss and mat create a combination, as well as the 3D effects on a smooth surface with plastic tops.