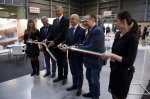 This year's set of the spring FOR HABITAT Trade Fairs (i.e. FOR HABITAT, FOR GARDEN, FOR FURNITURE, DESIGN SHAKER, Světlo v architektuře (Light in Architecture) and Bydlení, nové projekty (Living, New Projects) attracted a number of rare foreign visitors.
The ceremonial opening and subsequent cocktail of the joint exposition of the Italian firms at the DESIGN SHAKER Trade Fair under the MEDINIT company's organisation was attended by H.E. Aldo Amati, Italian Ambassador to the Czech Republic and by representatives of the Italian-Czech Chamber of Commerce and Industry (CAMIC).
The private event of the DESIGN SHAKER OPENING intended for designers and other professionals from the sector was graced by the presence of also Mr. Gerhard Schlattl, Commercial Attaché of Austria, and Jan Cimerman, Marketing Director of the Commercial Department of the Embassy of Austria, or Mr Adam Čumpel, Commercial Advisor of the Embassy of Denmark.
H.E. Efthymios Efthymiades, Ambassador of Greece to the Czech Republic, visited the trade fair on the second day, together with Mr. Pavlos Olziersky, Greek Counsellor for Economic and Commercial Affairs, and they saw the entire trade fair and together visited the stand with the furniture of the Greek Exhibitor MESA EXO in the 2D hall.
The market research for individual sectors of the trade fairs was processed by commercial counsellors from the Embassy of the Kingdom of Spain, Mrs. Nerea Gallego Ortiz de Zarate and Mr. Pablo Bajo Dasca.
The trade fairs attracted also a number of foreign purchasing managers, who may have visited your stand as well. For example, Mr. Develtere, proprietor of the Belgium-based firm of the same name, accompanied by Markéta Borůvková, Deputy Belgian Attaché, or Daeha Chair Co. a company from South Korea, looking for partners and distributors in the area of office furniture through the Chamber of Commerce at the Czech-Korean Society, were just two cases from the series of the VIP visitors trying to establish business contacts.